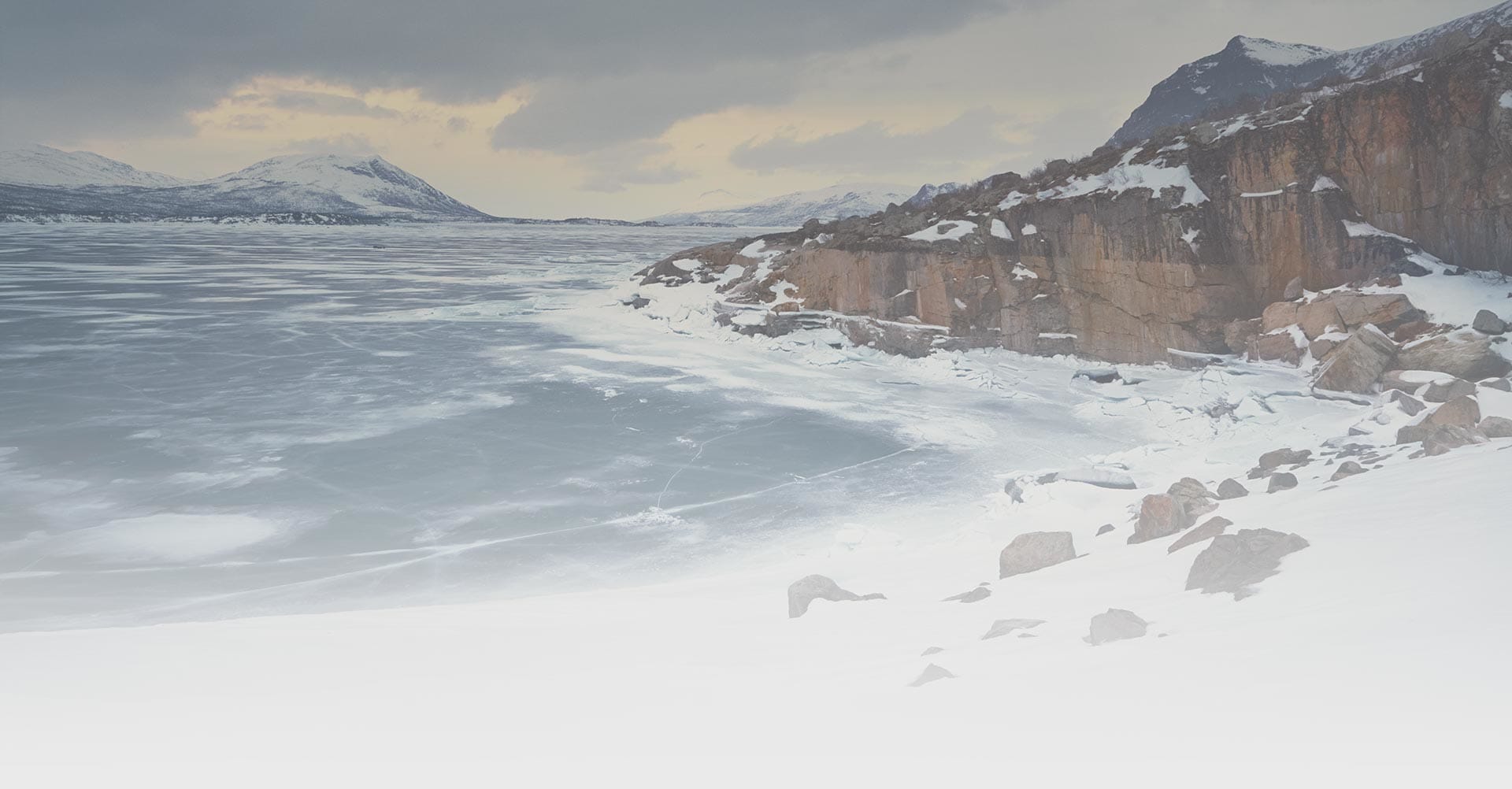 Dimenstion
| | |
| --- | --- |
| Height (mm) | 1713 |
| Length (mm) | 4644 |
| Width (mm) | 1891 |
| Width inc. Mirrors (mm) | 2120 |
| Wheel Base (mm) | 2774 |
| Track Front (mm) | 1632 |
| Track Rear (mm) | 1586 |
| Turning Circle (m) | 11.7 |
Engine - 1969CC 4 Cylinder
D4 Diesel
T6 Petrol
Rated Output (kw/hp/rpm)
140/190/4250
225/306/5700
Rated Torque (nm)
 
 
Acceleration (0-100 km/h) seconds
400
400
Transmission
8.1
6.9
Fuel tank capacity (Liter)
8AT-FWD
8AT-AWD
Fuel consumption (L/100km) combined
70
70
Speed limit (km/h)
4.7
7.7
Model Year: 2017
210
210
XC60
D4 Diesel
T6 Petrol
 

| | | | |
| --- | --- | --- | --- |
| Momentum | Inscription | R-Design | Inscription |
Climate
| | | | | |
| --- | --- | --- | --- | --- |
| CleanZone (AQS w/ prevent at unlocking) | S | S | S | S |
| Clean Zone Interior Software pre-ventilation | S | S | S | S |
| Electronic Climate Control | S | S | S | S |
| Laminated front windscreen (standard) | S | S | S | S |
| Tinted windows, rear side doors & cargo area | - | S | - | S |
| Electrically heated rear window | S | S | S | S |
Locking & Security Systems
| | | | | |
| --- | --- | --- | --- | --- |
| Basic Alarm + Interior movement sensor (IMS) | S | S | S | S |
| Level sensor | S | S | S | S |
| Immobiliser | S | S | S | S |
| Key integrated remote control, central locking | S | S | S | S |
| Home safe lighting | S | S | S | S |
| Approach light | S | S | S | S |
| Power child lock, rear doors | S | S | S | S |
| Global opening | S | S | S | S |
| Auto up/down power windows, all doors | S | S | S | S |
| Tempered side windows | S | - | S | - |
| Laminated windows all around | - | S | - | S |
Seats
| | | | | |
| --- | --- | --- | --- | --- |
| Upholstery | T-Tec | Leather | T-Tec | Leather |
| Power seat driver w/ memory for seat + ext. mirrors | S | S | S | S |
| Power seat passenger | S | S | S | S |
| w/ Electric Lumbar support | S | S | S | S |
| Electrically folding rear headrests | S | S | S | S |
| Integrated 2-stage booster cushions | S | S | S | S |
Support systems
| | | | | |
| --- | --- | --- | --- | --- |
| Cruise control | S | S | S | S |
| City safety | S | S | S | S |
| Blind spot information system w/ CTRA | S | S | S | S |
| Park assist camera, XCAN | S | S | S | S |
| Park assist front & rear | S | S | S | S |
| Hill start assist | S | S | S | S |
| Height / length adjustable steering wheel | S | S | S | S |
| Speed sensitive power steering, adjustable | S | S | S | S |
| Rain sensor. Gen.2 | S | S | S | S |
Engine installation
| | | | | |
| --- | --- | --- | --- | --- |
| OBD diagnostic system | S | S | S | S |
| Dual exhaust tail pipes, integrated | S | S | S | S |
Chassis
| | | | | |
| --- | --- | --- | --- | --- |
| Dynamic chassis | S | S | S | S |
| Dynamic stability traction control, DSTC | S | S | S | S |
| Advanced brake system, ABS | S | S | S | S |
| Antilock brake system, ABS | S | S | S | S |
| Rear brake discs ventialted | S | S | S | S |
| Drive away release, parking brake | S | S | S | S |
Wheels
| | | | | |
| --- | --- | --- | --- | --- |
| Alloy wheels | Segin 17x7,5x55 | Tucan18B 18x7,5x55 | Segin 17x7,5x55 | Tucan18B 18x7,5x55 |
| Tyre | Michelin 235/65R17V | Continental 235/60R18V | Michelin 235/65R17V | Continental 235/60R18V |
Interior
| | | | | |
| --- | --- | --- | --- | --- |
| Decor 'URBANE WOOD' | S | S | S | S |
| Leather steering wheel, w/ Decor inlays, 3 spoke | S | S | S | S |
| Gear shift paddles | S | S | S | S |
| Leather gearknob / leather gaiter for VEA | S | S | S | S |
| Gearlever illumination | S | S | S | S |
| Uni decor, Mannekin, air vents, CCM knobs | S | S | S | S |
| Automiatically dimmed inner mirror + Compass & Outer | S | S | S | S |
| Illuminated vanity mirror, driver (passenger is std) | S | S | S | S |
| Interior lighting high version | S | S | S | S |
| Textile floor mats (4 pieces) | S | S | S | S |
| Front armrest | S | S | S | S |
| Black frame IP screen | S | S | S | S |
Exterior
| | | | | |
| --- | --- | --- | --- | --- |
| Bright roof rails | S | S | S | S |
| Chrome decor side windows, lower | S | S | S | S |
| Heated & electrically adjustable outer mirrors | S | S | S | S |
| Retractable rear view mirrors | S | S | S | S |
| Puddle light | S | S | S | S |
| Colour matched rear view mirrors | S | S | S | S |
| AHB/ABL Integrated | S | S | S | S |
| Headlight washer, low flow | S | S | S | S |
| LED DRL lights | S | S | S | S |
| Dual headlights | S | S | S | S |
| Side positioning lights | S | S | S | S |
| Door moulding | S | Chromed | S | Chromed |
| Chromed strip tailgate | S | S | S | S |
| Rear foglight auto-off | S | S | S | S |
| Skidplate Mold in colour | S | S | S | S |
Safety
| | | | | |
| --- | --- | --- | --- | --- |
| 2 step airbag, drivers / passenger side | S | S | S | S |
| Passenger airbag | S | S | S | S |
| SIPS airbags | S | S | S | S |
| Inflatable curtains | S | S | S | S |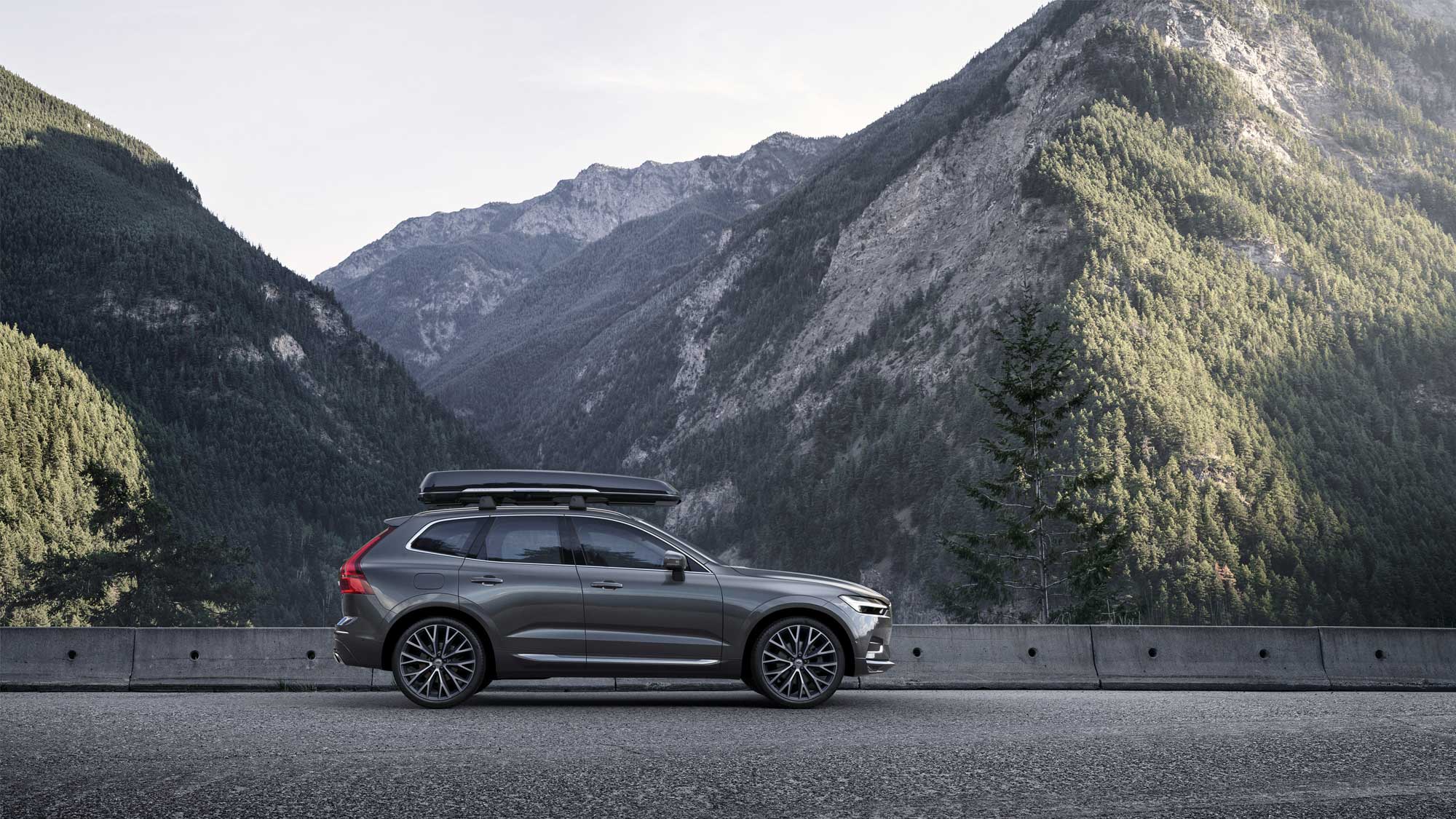 Exterior styling
To give your car an even more personal and unique profile, Volvo has developed these Exterior Styling accessories that reinforce the dynamic elegance of your car.
Running Boards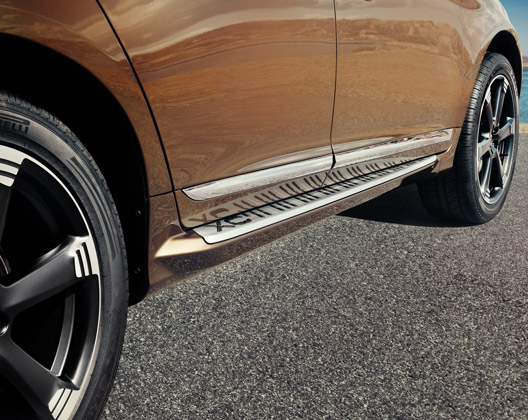 These integrated running boards feature colour-coordinated styling that neatly complements the refined design of the XC60. They look great and also provide practical support for entry and exit, and when you are loading the roof of your car.
Exterior Styling Kit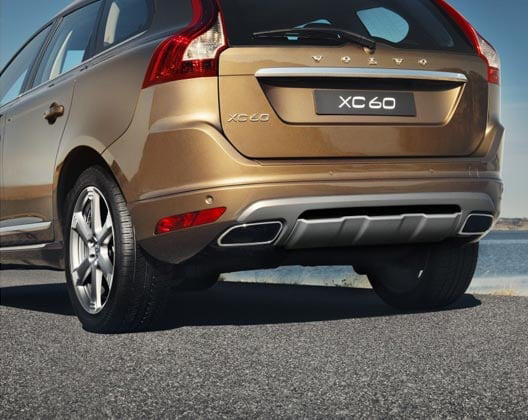 An exclusive exterior styling kit for those that wish to personalise their car. The kit gives the car a more refined but still robust character, that further increases the XC feeling. Includes front bumper bar and rear skid plate. (Excludes running boards)
Candor 20" Alloys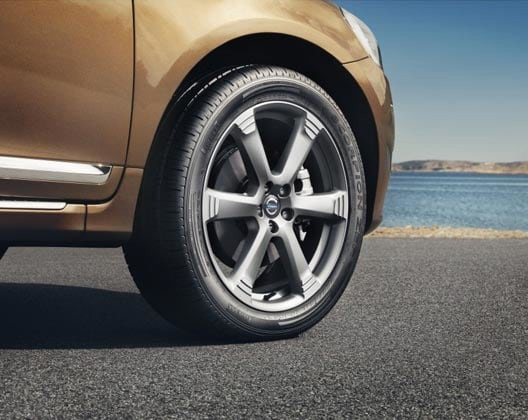 A complete set of 4 premium diamond-cut alloy wheels in iron stone add a sporty edge to your XC60. (Not included in the styling kit)
Tech & Sound
Navigate with style and ease, turn your Volvo into a mobile entertainment centre or use the parking assistance. With our Tech & Sound accessories you can get the full experience of sound and vision, safety and fun.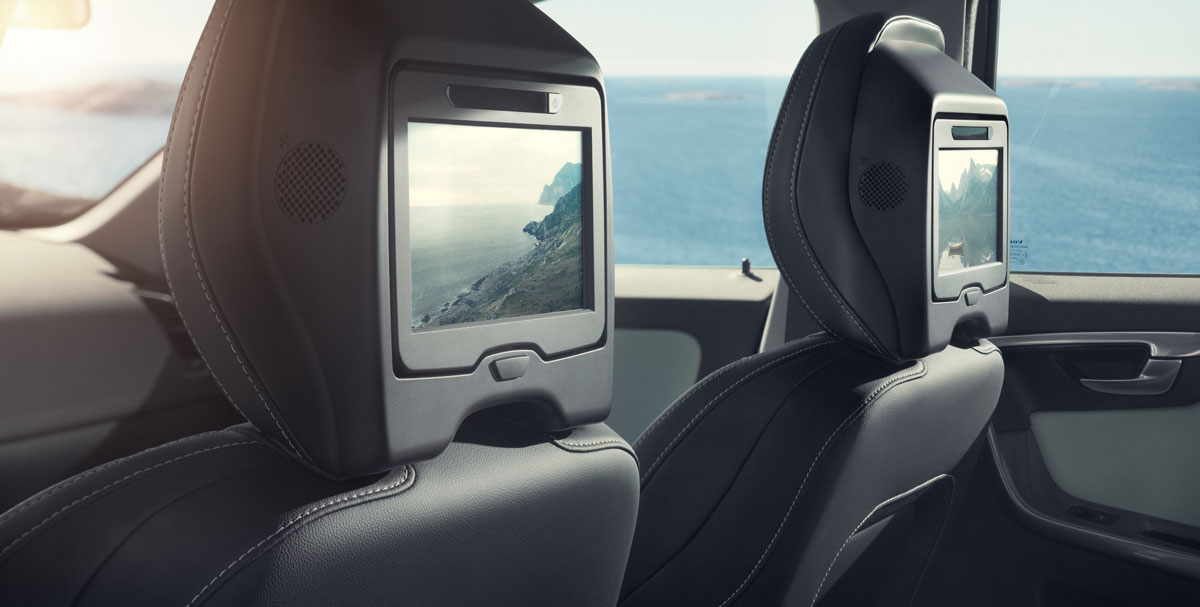 Rear Seat Entertainment
Including two 8-inch touch screens, two DVD players, two wireless headsets and connections to various external sources, this system will entertain for hours.
Pack and Load
Practical or elegant, why compromise? With these pack and load accessories you get the best of both and make your everyday life a little bit easier. To keep your Volvo's good looks some of them can even be colour-coordinated to fit your cars colour perfectly.
Detachable Towbar
The durable and versatile tow bar has been specially designed for use with your Volvo. It's easy to mount whenever you need it and when not in use it can be removed quickly and simply. And to maintain your Volvo's good looks, there is a colour-coordinated cover for the towbar opening.
Cargo Textile Mat
Made of textile and plastic, this reversible and foldable load mat is waterproof and fits perfectly into the cargo space making messy loads easy to transport.
Safety Grille
This gas-sprung steel grille helps protect you and your passengers from unsecured loads when braking sharply. When not required, the grille – which is colour-coordinated with your interior – folds conveniently up against the roof.
Safety
Everyone who rides in a Volvo is entitled to the same level of comfort and protection. That's why at Volvo Cars we have designed a range of Next Generation Child Seats. Covering every child's growth stage, there is a seat that will fit from 0-36kg until they are tall enough to ride with a car seat belt.
Child Infant Seat
Infants aged up to 1 year or up to 13kg
Child Rearward Facing Seat
Children from 9 months to 6 years or 9-25kg
Child Booster Seat
Children aged 4-10 years or 15-36kg
Child Booster Seat with Backrest
Children aged 4-10 years or 15-36kg